BizCeeVeeTV is a Division of Changing-IT For Good Ltd
Registered in England. Company Number 8633111
©2020 All Rights Reserved
VAT Reg GB-174 3095 06

Lichfield based, serving SME businesses UK wide
Lichfield based, serving SME businesses UK wide
OUR POLICY
don't LIKE = don't PAY
do the maths ..
OUR STRATEGY
Win-Win
works

general CONTACT:
Enquiries@BizCeeVeeTV.com
0207 1250210 or 07831 599100




Social Media
is important to FEED
new business into YOUR business
SOCIAL is with us all now, and it presents a significant opportunity to ENGAGE, create an IMPACT, and achieve a CONTACT from your visitors, leading to more new business via this new channel to find new customers in your locality.


You probably know that SOCIAL media and Facebook (FB) in particular is something that a majority of your prospective customers are active on – some more actively than others.


You probably suspect that FB is a probable source of new customers, but you really don't have the time to address HOW to do it - nor the time to keep your content current and relevant - with needing to FEED THE BEAST regularly in order to be effective and grow your audience.


And there are no half measures – playing at doing it will probably not achieve much - and could even do damage to how you are viewed.


WE HAVE A POSSIBLE ANSWER that might appeal to you. And you CAN afford it.


We have invested in multiple huge IMAGE LIBRARIES each consisting of 60-180 sector-centric graphics. The images are attention-getting and novel - consistent with FB and modern media material. The image to the LEFT of the picture below (the left half of the picture) is just ONE from our Libraries. The RIGHT half of the image below expands on WHAT WE DO.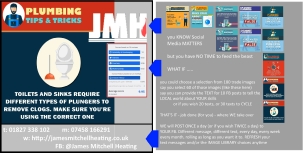 If you become OUR customer, you will be able to
- choose ANY

60

(or 90) images from this library – some may be more appropriate to your business than others – ALL are plumbing-centric.
- provide a series of say

10 sets of TEXT

(or 20, or 30) to become the basis for FB POSTS – after this set have been posted they will

RECYCLE

ongoing, with a different IMAGE until all 60 have been used, then the images will

also RECYCLE

.
-

YOUR LOGO will be overlaid

on each image you choose to use – plus your

CONTACT info

in the way you can see on the image above TO THE LEFT HALF (the left half is the ACTUAL size of the FB image posted together with YOUR text).
- you can choose whether you want your FB post to occur

DAILY

, or choose

TWICE

per day.
You then

sit back and watch

as WE submit your posts routinely to FB. If you choose to YOU can just SHARE posts to your FB contacts, and/or you can pay FB a small sum and

BOOST visibility of your POSTS to the LOCAL community

– that's your call but if you need to know more about HOW to do that with FB we can talk you through it easily enough.
in EACH of our Libraries
there are 60-180 to choose from depending on the Services you provide


choose 60, or 90 for
YOUR FB POSTING campaign


DFY by US
OUR SERVICES will only be OPEN to:
Just

ONE service Supplier

in any

one TOWN

(e.g. we will only work with 1 Plumber in TAMWORTH, 1 in Lichfield, one in Rugeley etc)


Max

FIVE service Suppliers

in any

one CITY

(so a MAX of 5 Plumbers across BIRMINGHAM, or BRISTOL, or LEEDS etc)


Max of

TWENTY service Suppliers

in any

one COUNTY

(so MAX of 20 across Staffordshire, or Warwickshire, or Worcestershire etc)
So we will

not be providing these services to every Supplier you compete with

locally or regionally.


AND our library images as chosen can optionally contain

YOUR LOGO and YOUR contact info

- and via our randomised posting controls NO duplication of images will occur for multiple competing clients of ours that are operating in close-by geographies. The POST MESSAGE TEXT will include whatever TEXT you supply to us at the start OR which you amend as time passes.






Get in touch to SECURE your placement with us.


Slots in every district of the country are restricted as described above
and when they are GONE .…


Contact for THIS new service


07880 541351


socialpostman@bizceeveetv.com





Our FB posting SERVICES as described here exist currently for:


CHIROPRACTORS
DENTISTS
PLUMBERS
ROOFERS
HVAC
ELECTRICIANS
LANDSCAPERS
REMOVALS and STORAGE
DENTIST FB POST IMAGES
SAMPLES from LIBRARIES
SAMPLE PLUMBER IMAGES